The mission of the LMU African American Alumni Association (AAAA) is to participate, advocate, and give. AAAA was established by LMU alumni, faculty and staff in 2003 to provide financial assistance to deserving undergraduate LMU students who achieve academically and actively support their community.
While fulfilling the LMU mission of service and leadership, AAAA also promotes and fosters a sense of community for African-American students and alumni through professional development and social events.
2023–24 African American Alumni Association
Christopher Pearson '06, President
Adrianne Chivers '07, Vice President
Aaron Banks '95, M.D.
President
Pediatric Heart Center
Santa Clarita, CA
Michael Banner '76
Retired President & CEO
Los Angeles LDC, Inc.
Los Angeles, CA
Rhonda Bethea '93
Senior Vice President
Bank of America
Charlotte, NC
Risha Booker '00
Director of Recruitment
New Leaders
Oakland, CA
Alberta Brinson Moore '84
Community Advocate
The Randal D. Simmons Outreach Foundation
Los Angeles, CA
Harold Brooks '70
Consultant
Global Community Resilience
Oakland, CA
Jerome Carter '86
CEO
Inspiration 52
Long Beach, CA
Adrianne Chivers '07
Manager, Alumni Affairs
The American Film Institute
Los Angeles, CA
Kedric Dines '86†
Senior Vice President
Mizuho Bank, Ltd.
Englewood Cliffs, NJ
Torey Favarote '95
Attorney at Law
Gleason & Favarote LLP
Long Beach, CA
Darryll Harrison '00†
Vice President, Global Technology Communications
General Motors Corp.
Long Beach, CA
†Member of LMU Board of Regents
A. Robbie Lee '04
Executive Consultant
Synergies Redefined
Los Angeles, CA
Teri Owens '85
Sr. Tech Business Developer, Strategic Merchant Development
Amazon Payment Services
Los Angeles, CA
Christopher Pearson '06
SVP, Development Planning & Gov Affairs
Hudson Pacific Properties
Los Angeles, CA
Karen Pointer '84
Attorney/Partner
Lerman & Pointer LLP
Los Angeles, CA
Muammar Q. Reed '07, J.D. '10
Attorney
Reed & Garcia Law, P.C
Los Angeles, CA
Erithe Smith '79
Judge
United States Bankruptcy Court
Santa Ana, CA
Robert Turner
Sr. Director, Diversity Business Development
En Pointe Technologies
Las Vegas, NV
Rosemary Turner '84
Retired President
UPS
Las Vegas, NV
La Shawn Witt '98, Ed.D. '01
President and CEO
Divine Diva Events
Inglewood, CA
Get Social
Follow the African American Alumni Association on Facebook and Instagram.
Check out the LMU Alumni Association's Flickr albums to view photos from recent events.
Support
Support AAAA's scholarship recipients by making a gift to the African American Alumni Association Scholarship Fund. Make a gift online.
Contact Us
Lisha K.M. McGrue
Senior Director for Alumni and Family Engagement
Phone: 310.338.3065
Email: lisha.mcgrue@lmu.edu
Mailing Address
Loyola Marymount University
1 LMU Drive, Suite 2800
Los Angeles, CA 90045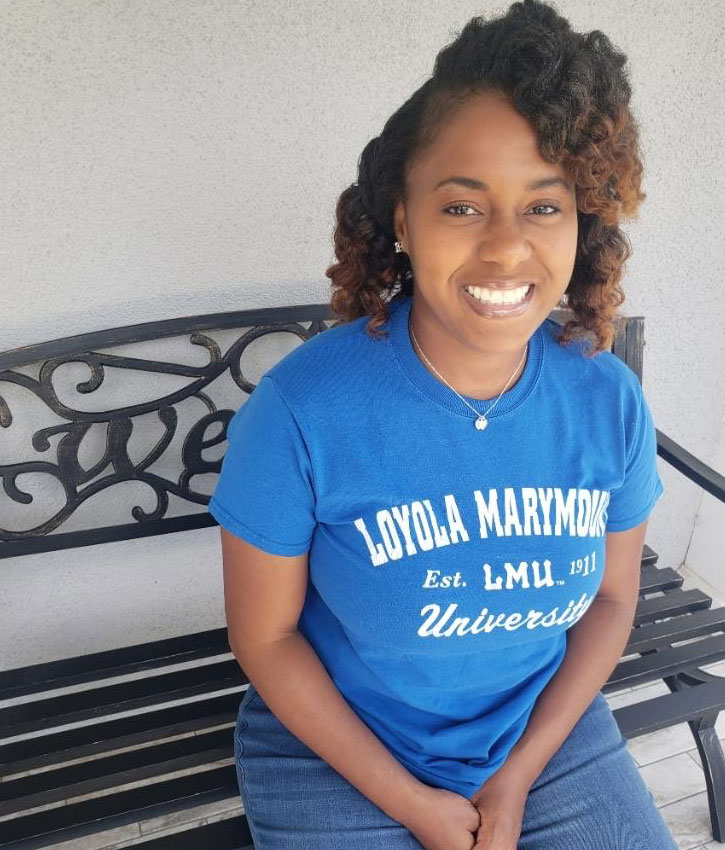 Learn more about why Ra'Kenna Joseph Luckey '08 loves staying connected with LMU by serving as an AAAA Ambassador!